Model Car Waterslides 1:25 Scale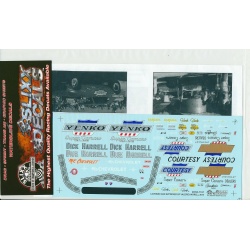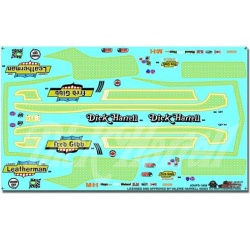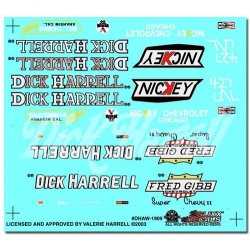 1:24th & 1:25th scale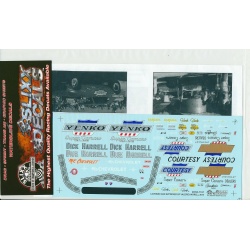 Dick Harrell's '67/'68 Camaro Funny Car-Courtesy or Yenko® 1/25 Scale Waterslide (Dick Harrell Slixx Decals)
Dick Harrell's '67/'68 Camaro Funny Car-Courtesy or Yenko® 1/25 Scale Model Car Waterslide


This decal is designed to fit on the Speed City '67/'68 Camaro Funny Car, available from Speed City Resins
Dick Harrell engineered and prepped the first twenty-five (25) Super Camaros for Don Yenko. Don Yenko was also Dick's racing sponsor for the 1967 racing season.  After Don Yenko's sponsorship ended, Courtesy Chevrolet became Harrell's sponsor for his '68 racing season.
You can use this decal to create a 1967 Dick Harrell
®
Yenko
® 
Camaro funny car or a 1968 Dick Harrell Courtesy Chevrolet Camaro funny car. 
*Receive a free 8x10 color photo of Dick Harrell's 1967/68 Camaro Funny Car with purchase.*This is sold as a decal sheet only.

Paint and body not included.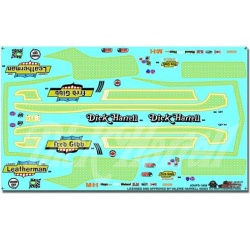 Dick Harrell Engineered & Built Famous 1969 ZL1 Camaro Decal 1:24 & 1:25 Scale (DH-MODEL-DECAL-ZL1-1908)
This is sold as a decal sheet only. Paint and body not included
The 1969 ZL1 Camaros were engineered and built by Dick Harrell. Fred Gibb was Dick Harrell's Chevrolet sponsor for the 1969 and 1970 racing season. Dick needed Fred Gibb to floor 60, 1969 ZL-1s in order to create an AHRA SuperStock class.
Cousins, Larry and Jim Leatherman purchased #15, of the 1969 ZL1 Camaros. This car is still in existence & currently being restored to original form.
This decal sheet is designed to be used on the Revell 1969 Yenko Camaro.

Optional and included is Harrell's sponsor, Fred Gibb Chevrolet dealership logo, which can be used in place of Larry Leatherman design shield logo.
Paint Codes: Kandy Apple Red. 1:24 & 1:25 scale, waterslide Slixx decal Free 8x10 color photo with purchase The Highest Quality Racing Decals Available.
DICK HARRELL PERFORMANCE CENTER SINCE 1967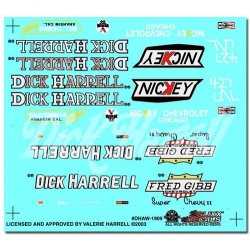 Dick Harrell's Nickey Chevy II Slixx Model Decal 1:24th & 1:25th scale (DH-MODEL-DECAL-NICKEY-1909)
*This is sold as a decal sheet only. Paint and body not included. 1966 Dick Harrell® owned Chevy II sponsored by Nickey Chevrolet Dealership out of Chicago: This decal sheet is designed to be used on Competition Resins A.W.B. Nova. Also, can be used to build the 1968 Dick Harrell built Fred Gibb COPO Nova: This decal sheet is designed to used on AMTs Nova. Color Code: Red. 1:24th & 1:25th scale, Waterslide Decal. The Highest Quality Racing Decals Available. *Free 8x10 color photo with your order DICK HARRELL PERFORMANCE CENTER SINCE 1967
1:24th & 1:25th scale